[Live Results] GENERAL ELECTION TO LOK SABHA TRENDS & RESULT 2019
14:25 : Narendra Modi-led BJP crosses 300 mark alone, leads on lone seat where counting continues
Narendra Modi-led BJP has secured 302 seats alone in the 542-seat election. At 02.12 PM, the party was also leading on the last seat where counting was still underway.
12:40 : BJP wins 15 seats with a vote margin of over 5 lakh
In 2019 Lok Sabha elections, the BJP won 15 seats with over 5 lakh vote margin. Comparatively, in 2014 Lok Sabha elections, BJP had won 6 seats with over 5 lakh margin.
BJP also made a clean sweep in 10 seats and Union Territories but missed winning all seats in Madhya Pradesh and Bihar by just one seat.
11:35 : Strike rate: BJP versus Cong
BJP retains 81.8 percent of the seats, while Congress managed to retain 37.2 percent of its seats in the Lok Sabha Elections.
11:05 : With over 50% vote share in 224 seats, Modi becomes first PM since Nehru to return to power with a bigger mandate
According to the latest Election Commission figures (see image below), the BJP has won 299 seats, all by itself, and is leading in four seats taking its final tally to 303. In 2014, a Narendra Modi wave had swept the whole of North India to propel the BJP to power at the Centre. The BJP had become the first party in 30 years to win a single-party majority in a Lok Sabha election. The last time was Rajiv Gandhi's overwhelming victory in 1984 Lok Sabha election with the Congress winning 415 seats.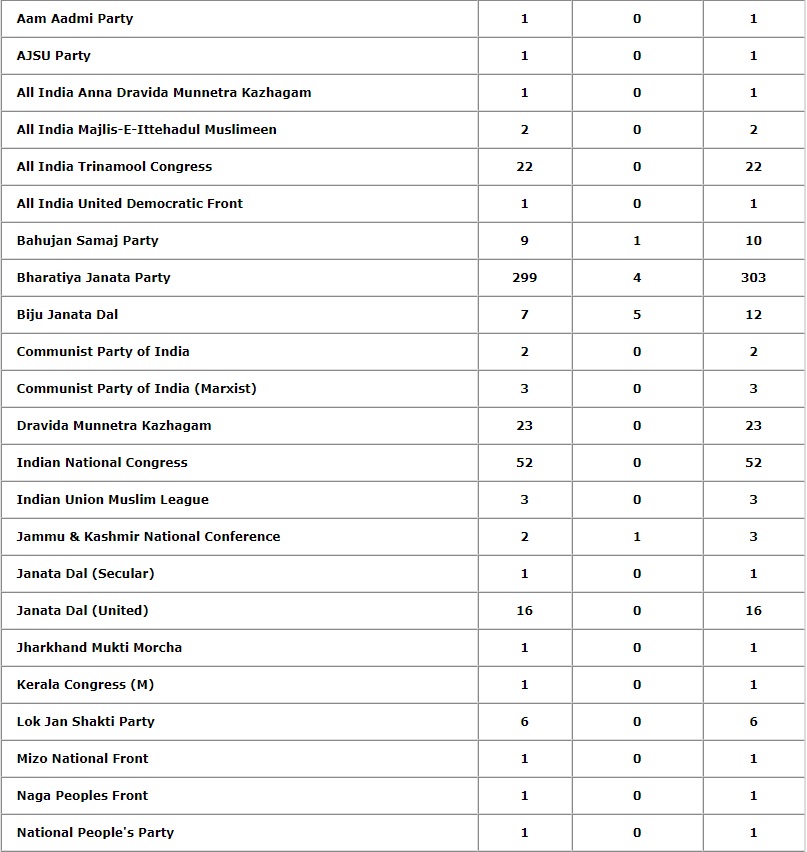 10:20 : Congress' Baharampur MP Adhir Ranjan Chowdhury, Maldaha South MP retain their seats
Congress sitting MP from Baharampur in Murshidabad district Adhir Ranjan Chowdhury and Maldaha South MP Abu Hasem Khan Chowdhury managed to retain their respective seats.
09:15 : Results declared for all 20 seats in Kerala
In Kerala, the Election Commission of India declared results for all 20 seats. Congress-led UDF government got comfortable a victory with Congress winning 15 seats. Here is the final tally:
Communist Party of India (Marxist): 1
Indian National Congress: 15
Indian Union Muslim League: 2
Kerala Congress (M): 1
Revolutionary Socialist Party: 1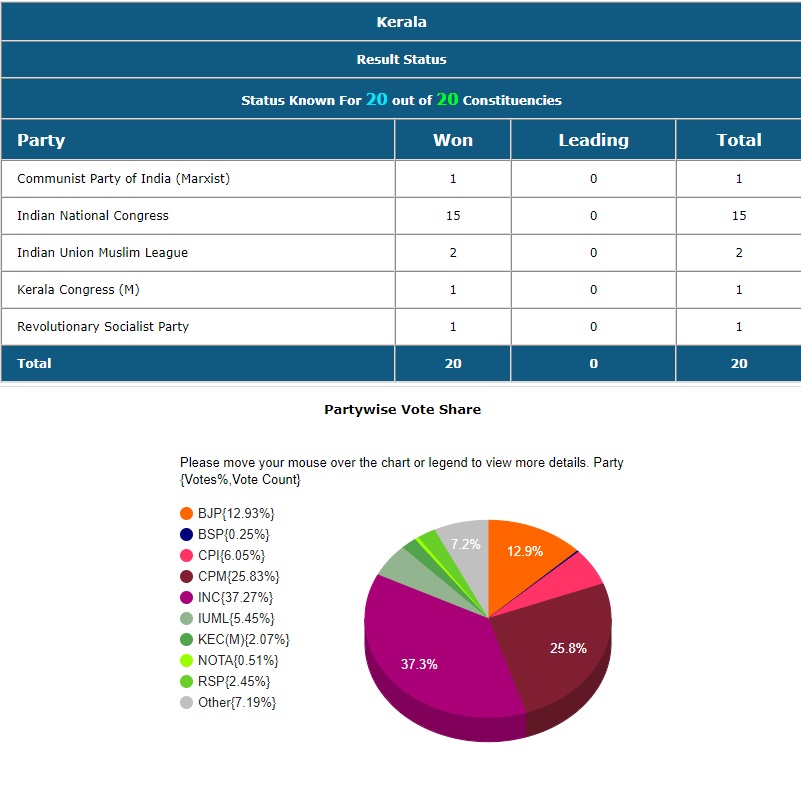 22:10 : Rajnath Singh wins from Lucknow, Nakul Nath from Chhindwara
The EC tweeted that UM Rajnath Singh has won from Lucknow, while Madhya Pradesh CM Kamal Nath's son won from Chhindwara. BJP leader Varun Gandhi has won from Pilibhit in Uttar Pradesh.
21:35 : Chirag Kumar Paswan wins from Jamui, Sunny Deol wins from Gurdaspur
The EC further stated that SAD candidate Harsimrat Kaur Badal has won from Bathinda and Sukhbir Singh Badal has won from Firozpur.
21:15 : BJP wins 109 seats, leads in 194
Congress, on the other hand, has won 26 seats so far and is leading in 25 more.
20:30 : Every moment of my time and every bit of energy in my body is for my countrymen: Narendra Modi
"Our Constitution is supreme. We have to follow every word of the Constitution," Modi stated.
"As the trust of the people rises, the responsibility of the government also rises," he stated.
"I will not indulge in anything with bad intentions: This is my promise," he added. "I may make mistakes, but my intentions will never be evil."
"I will not do anything for my own gains," he said. "Every moment of my time and every bit of energy in my body is for my countrymen," he added.
20:15 : This victory is 'sabka saath, sabka vikas' ideology's win against 'tukde tukde' gang: Amit Shah
"Despite malpractices in West Bengal, BJP won 18 seats," Amit Shah stated.
"BJP is going to sweep West Bengal in the days to come," he added.
"The defeat of the Opposition and the victory of the BJP is against the 'tukde-tukde' gang's ideology," Shah stated.
19:35 : List of winners from Rajasthan till now
Ajmer- Bhagirath Choudhary
Barmer- Kailash Choudhary
Bharatpur- Ranjeeta Koli
Bhilwara- Subhash Chandra Baheria
Chittorgarh- Chandra Prakash Joshi
Churu- Rahul Kaswan
Sri Ganganagar- Nihal Chand
Jalore- Devaji Patel
Jhalawar-Baran- Dushyant Singh
Jodhpur- Gajendra Singh Shekhawat
Tonk Sawai-Madhopur- Sukhbir Singh Jaunapuria
19:20 : BJP wins 42 seats, Congress wins 11
According to the EC, the saffron party is also leading in 260 seats. On the other hand, Congress is leading in 40 seats.
18:45 : National Conference senior leader Mohammed Akbar Lone wins from Baramulla
The NC leader won from that seat with a Margin of more than 20,000 votes.
18:25 : Let Smriti Irani take care of Amethi: Rahul Gandhi
After conceding defeat in Amethi, Congress president Rahul Gandhi stated that Smriti Irani should take care of Amethi. "I congratulate Smriti Irani and hope she fulfils the people's trust and treats the constituency with love," he stated.
17:58 : Rahul Gandhi: Janta malik hai
"The people have given their decision," stated Congress president Rahul Gandhi. "In these polls, Narendra Modi and BJP have won. I congratulate them."
"Frankly, today is the day of the mandate and I don't want to colour the decision of the people of India by discussing with you what went wrong for us," he added.
17:50 : BJP wins 12 seats, Congress has won one seat
The saffron party is currently leading in 290 seats, according to the Election Commission. Congress, on the other hand, is leading in 49 seats.
17:00 : BJP wins six seats
According to the Election Commission, the saffron party has won six seats so far. The BJP-led NDA is leading in 340+ seats.
16:55 : BJP's Darshana Jardosh wins from Surat
BJP's Darshana Jardosh won by a margin of 5,44,471 votes from the Surat Lok Sabha constituency.
16:50 : Urmila Matondkar trails against BJP's Gopal Shetty in Mumbai-North
Congress' Mumbai-North Lok Sabha seat candidate Urmila Matondkar is trailing against BJP's Gopal Shetty by over 4 lakh votes.
16:30 : BJP veteran LK Advani congratulates Modi, praises Amit Shah
"Heartiest congratulations to Narendrabhai Modi for steering BJP towards this unprecedented victory in elections. Amitbhai Shah as BJP President & all dedicated workers of the party has put in enormous effort in making sure that BJP's message reaches every voter. It's such a wonderful feeling that in a country as large & diverse as India, the electoral process has been so successfully completed & for that, my compliments to the electorate & all the agencies involved. May our great nation be blessed with a bright future ahead," Advani stated.
16:10 : First time India's political history that BJP has won 24 seats in south India: BS Yeddyurappa
"It is the first time in India's political history that BJP has won 24 seats in south India. My thanks to people of Karnataka for electing BJP candidates in the regions," says Karnataka BJP leader BS Yeddyurappa.
16:00 : Lalit Modi says 'massive win' not just because of votes won, but hearts that the PM won
Former IPL commissioner and fugitive Lalit Modi stated, "Massive Massive Win!!! This victory is not just by the count of votes, it was a count of the number of hearts #pmmodi has won. Congratulations Narendra Modi. India wins again."
15:45 : Even with a Congress-AAP alliance, BJP would have swept Delhi
BJP's vote share tally in all seven constituencies- Chandni Chowk, East Delhi, New Delhi, North East Delhi, North West Delhi, West Delhi, and South Delhi- is above 50%. An alliance between the two parties, in this case, would not have got the opposition even a single seat.
15:25 : Shinzo Abe, Vladimir Putin, and Xi Jinping congratulate Narendra Modi
Japanese PM Shinzo Abe and China's premier Xi Jinping congratulate Narendra Modi on landslide victory. Russian president Vladimir Putin also congratulated the prime minister, who has managed to secure a historic mandate which trumps the 2014 Lok Sabha numbers. Sri Lankan PM and president too congratulated Modi
15:05 : India wins yet again, tweets Narendra Modi
Incumbent PM, Narendra Modi, who is gearing up to take oath for his second term as PM of India, tweeted to acknowledge the electoral support.
14:55 : Amit Shah tweets: 'Once Again Modi government. Thank you, India'
As BJP secured a historic lead of 299, ensuring that if it wins with this mandate it will not need allies to form the government at the Centre, party president Amit Shah tweeted thanking the country and announcing, "Once Again Modi government."
14:43 : Modi's nationalism pitch helped matters for BJP
The new aggressive approach that the Modi government took in taking on terrorists operating from Pakistan soil was welcomed by the masses and converted into votes, both from the rich and poor. One could argue that the Balakot attacks turned the tide in favor of the BJP. Congress accusations against the government such as lack of evidence or intelligence failure that led to Pulwama attacks find any takers among common voters.
14:30 : Mamata says congratulations to all winners but adds let 'VVPATs be matched'
Tweeting her first reactions, CM Mamata Banerjee stated " all losers are not losers", probably hinting at TMC, who is leading in 22 seats in the 42-seat Assembly. BJP has secured an early lead in 19 seats. Congress leading only in 1 seat.
14:20 : India rejects Rahul Gandhi's populist pitch
The NDA is leading in 345 seats and the UPA in 90, a significantly amplified version of the 2014 verdict. Here are some initial takeaways. People rejected Congress president Rahul Gandhi's populist plank. Under Rahul, the Congress has failed miserably to present a convincing economic future plan for the aspiring middle class and rural voters.
14:10 : Hardik Patel says BJP victory is dishonest and corrupt
Congress leader Hardik Patel said that while the Congress campaigned and ran for the Lok Sabha elections with utmost honesty, the BJP had adopted the dishonest path and it's not the voters that led BJP to its victory but it's dishonest and corrupt means.
13:58: Nepal's KP Sharma Oli congratulates Modi
Nepal PM K P Sharma Oli also congratulated Modi and said that he looks ahead to work with India.
13:50 : Bhupinder Singh Hooda and son Deepender Singh are trailing in Haryana
BJP sitting MP and actor Kirron Kher has a lead of over 5,500 votes in Chandigarh Lok Sabha seat. She previously won with a margin of over 69,000 votes in 2014.
In neighboring Haryana, former CM Bhupinder Singh Hooda and his son Deepender Singh Hooda are trailing in Sonipat and Rohtak respectively.
13:35 : Ashok Gehlot's son trailing, Kamal Nath's leading
Rajasthan CM Ashok Gehlot's son Vaibhav Gehlot is trailing by over 1.8 lakh votes in Jodhpur against BJP's Gajendra Singh Shekhawat. Former Rajasthan CM Vasundhara Raje's son Dushyant Singh is leading by over 3.8 lakh votes in Jhalawar. Meanwhile, Madhya Pradesh CM Kamal Nath's son Nakul is leading by over 38,000 votes.
13:25 : Pragya Thakur leads by over 1 lakh votes
Malegaon blast accused Sadhvi Pragya Thakur is leading in Bhopal seat by a margin of over one lakh votes against Congress veteran and former CM of Madhya Pradesh Digvijaya Singh.
13:15 : Ashok Gehlot's son trailing, Kamal Nath's leading
Rajasthan CM Ashok Gehlot's son Vaibhav Gehlot is trailing by over 1.8 lakh votes in Jodhpur against BJP's Gajendra Singh Shekhawat. Former Rajasthan CM Vasundhara Raje's son Dushyant Singh is leading by over 3.8 lakh votes in Jhalawar. Meanwhile, Madhya Pradesh CM Kamal Nath's son Nakul is leading by over 38,000 votes.
13:05 : Azam Khan ahead in Rampur, Smriti Irani maintains a slender lead
Former SP minister Azam Khan is currently leading by over 60,000 votes over Jayaprada in Rampur.
Varun Gandhi, who had a shaky start in the initial rounds, is leading over 1.15 lakh votes in Pilibhit.
Smriti Irani slender lead in Amethi over Smriti Irani has now been slashed to just 2,688 votes.
PM Modi in Varanasi has stretched his lead to over 2 lakh votes.
12:55 : Sri Lanka congratulates Narendra Modi on 'magnificent victory' even before EC announces official numbers
Even before the EC numbers made any official announcements about winners for Lok Sabha elections, Sri Lanka's PM Ranil Wickremesinghe congratulated Narendra Modi-
12:45 : BJP leads in four seats in Telangana
In a massive boost to the BJP in the south, four of its candidates are leading in Telangana. Party state chief Kishan Reddy is leading by over 35,000 votes in Secundrabad. BJP candidate from Nizamabad, Arvind Dharmapuri is leading by over 24,000 votes against CM K Chandrasekhar Rao's daughter and sitting MP Kavitha.
12:35 : Here's how key candidates are faring
Narendra Modi- leading in Varanasi by 174335 votes
Rahul Gandhi- leading in Wayanad by 247626 votes and trailing in Amethi by 4418 votes.
Sonia Gandhi- leading in Rae Bareli by 37192 votes.
Amit Shah- leading in Gandhinagar by 329756
Rajyavardhan Rathore- leading in Jaipur Rural by 210786 votes.
Akhilesh Yadav- leading in Azamgarh by 54878 votes.
12:30 : Bengal BJP chief leads in Kharagpur Sadar
BJP West Bengal president Dilip Ghosh is leading by 700 votes against TMC's Manas Bhuniya in Kharagpur Sagar. In Bankura, TMC heavyweight Subrata Mukherjee is trailing against BJP's Subhash Mukherjee who is leading by more than 25,000 votes.
12:25 : Gambhir posts massive lead, Atishi trailing in the third position
Former cricketer Gautam Gambhir is leading by with a margin of over 60,000 votes in East Delhi over his nearest rival Congress' Arvinder Singh Lovely. AAP's Atishi Singh is in the third position.
In the other six Lok Sabha seats in Delhi, BJP candidates have massive leads. Former Delhi CM Sheila Dikshit is in trailing BJP Delhi chief Manoj Tiwari, who has a lead of over 1.3 lakh votes. The Congress appears to have relegated AAP to third in five of the seven seats.
12:15 : South Goa, Congress has a slight edge
In South Goa, Congress's Francisco Sardinha leads by about 3,000 votes against BJP's Narendra Sawaikar. Aam Aadmi Party's Elvis Gomes is currently in the third position with 11,061 votes.
12:05 : BJP leads in 292 of 542
According to official Election Commission trends, out of 542 constituencies, BJP is leading in 292 while INC is leading in 51; DMK in 22, All India TMC in 24, YSR Congress Party in 25, Shiv Sena in 20, JDU in 16, BJD in 14 and BSP in 11 constituencies.
12:00 : Narendra Modi to be at BJP HQ at 5 pm today
PM Narendra Modi is likely to be at the BJP headquarters at 5 pm today as counting of votes makes it clear that people have decided to have a government-led for a second term.
11:55 : BJP candidate leads by over 1 lakh votes in Statue of Unity seat
In Chhota Udaipur, a Lok Sabha seat in which the Statue of Unity was built, the BJP candidate is leading by over 1.68 votes.
BJP chief Amit Shah is leading by over 1.86 lakh votes in Gandhinagar. His predecessor L K Advani had won with a margin over 4.8 lakh votes in 2014.
In Mahesana, under which Amit Shah and Modi's native villages fall, the BJP is leading by over 11,000 votes.
11:45 : Sharad Pawar grandnephew trailing by over 1 lakh votes, and more updates
The BJP is leading in Madha, a seat formerly represented by NCP chief Sharad Pawar three times. Pawar's grandnephew Parth Pawar is trailing by over 1 lakh votes. However, his daughter Supriya Sule is leading by over 30,000 votes in Baramati.
Late actor Sunil Dutt's daughter Priya Dutt is trailing by 34,413 against BJP's Poonam Mahajan in Mumbai North Central.
Union Minister Nitish Gadkari is leading by over 13,000 votes over INC's Nana Patole.
11:37 : Gautam Gambhir leading with 73,000 votes in East Delhi
AAP losing battle badly in East Delhi where Arvind Kejriwal, Manish Sisodia, Swara Bhaskar, and other star campaigners have put their maximum efforts for Atishi. Currently, BJP's Gautam Gambhir is leading with 73,000, against Congress' Arvinder Lovely who is leading with 33,500 votes and Atishi of AAP with 22,800 votes.
11:30 : BJP's Hema Malini leading from Mathura
Sitting MP and BJP candidate Hema Malini leading by 22,893 votes against nearest rival and SP-BSP-RLD alliance candidate Kunwar Narendra Singh in Mathura.
11:20 : Sushma Swaraj congratulates Modi
External Affairs Minister Sushma Swaraj is perhaps the first of the ministers to congratulate Narendra Modi on the results. Here's what she has tweeted-
प्रधान मंत्री जी @narendramodi - भारतीय जनता पार्टी को इतनी बड़ी विजय दिलाने के लिए आपका बहुत बहुत अभिनन्दन. मैं देशवासियों के प्रति हृदय से कृज्ञता व्यक्त करती हूँ.
— Chowkidar Sushma Swaraj (@SushmaSwaraj) May 23, 2019

11:10 : Rahul Gandhi heads for record majority in Kerala
Rahul Gandhi has crossed one lakh votes and is heading for a majority in Wayanad. The parliamentary segment witnessed a record turnout of voters this year as polling was held in Kerala's 20 constituencies. Buoyed by the large turnout, the Congress-led UDF claimed a 'record-breaking margin for Gandhi when the votes would be counted.
11:00 : Tight contest in Amethi
Amethi is witnessing a close contest between Congress president Rahul Gandhi and BJP leader Smriti Irani. Irani is leading by only 2,501 votes. So far, Rahul has received 14,030 votes, while the Union minister has won 16,531 votes.
10:55 : Flash Sensex hits 40,000 for the first time ever as BJP takes a decisive lead
Sensex hits 40,000 marks for the first time ever, rallies nearly 900 pts, while Nifty crosses 12,000 as BJP takes a decisive lead in the Lok Sabha election results.
10:50 : Goa election results
BJP's Shripad Naik has taken a massive lead in North Goa while Congress's Francisco Sardinha is leading in South Goa. In the Assembly election bypolls, Congress is leading in Panaji and Mapusa while the BJP is leading in Mandrem. In Shiroda, former BJP ally MGP is leading.
10:40 : BJP leads in Asansol, Hooghly, Bankura, and Purulia
Out of the 42 Lok Sabha constituencies in West Bengal, the BJP is leading in the following:
Asansol- leading by 31670
Hooghly- leading by 9117
Alipurduar- leading by 7221
Bangaon- leading by 7709
Bankura- leading by 4707
Bishnupur- leading by 4215
Burdwan Durgapur- leading by 7407
Maldah- leading by 7933
Jhargram- leading by 3196
Ghatal- leading by 1104
Purulia- leading by 547
10:35 : BJP leading in 10 seats in West Bengal
The BJP seems to have thwarted all efforts of the TMC to keep the saffron party at bay in Bengal. Out of 42 seats in Bengal, the BJP is leading in 10 constituencies while the TMC takes the lead in 18 seats. Congress is leading in two seats while the Left Front has failed to catch up yet.
10:30 : KCR's daughter Kavitha trails in Nizamabad
CM K Chandrashekar Rao's daughter Kavitha is trailing in Nizamabad. Kavitha is locked in an unprecedented fight against 178 farmers who had registered to contest against the sitting MP. The 178 farmers jumped into the fray to support their demand for a remunerative price for turmeric and red sorghum and setting up of a Turmeric Board based in Nizamabad. Kavitha had blamed the BJP for failing to take initiative for setting up the Turmeric Board.
10:25 : BJP-led NDA set to cross 300 mark
Most of the exit polls had indicated a pro-incumbency wave and projected that the BJP-led NDA will comfortably cross the magic mark of 272 seats to form the government. According to the early trends, BJP-led NDA will comfortably cross the 300-mark. Trends showed that BJP is leading in 288 seats, while NDA is leading in 341. Comparatively, UPA is trailing with a lead only in 92 seats while Congress has been able to secure leads in 54 seats.
10:20 : BJP begins the celebration in Ranaghat
BJP cadres begin celebrations in West Bengal's Ranaghat. The key candidates in the Ranaghat SC constituency for Lok Sabha Elections 2019 are Rupali Biswas of TMC, Biswas Rama of CPI (M), Jagannath Sarkar of BJP and Minati Biswas of Congress.
10:10 : In UP's Baghpat, the close fight between BJP's Satyapal Singh & RLD's Jayant Chaudhary
It's a neck and neck battle between BJP's sitting MP Satyapal Singh and RLD candidate Jayant Chaudhary. Singh is presently maintaining a lead of nearly 2000 votes over Chaudhary.
10:00 : Election results 2019: Maneka Gandhi trailing in Sultanpur
Union Minister Maneka Gandhi is trailing BSP candidate by close to 7,000 votes in Sultanpur. The seat was previously represented by Maneka's son Varun Gandhi, who switched to Pilibhit.
In Tamil Nadu's Sivaganga, former union minister P Chidambaram's son Karti Chidambaram is leading with a margin of over 2,000 votes. In Nilgiris, former union minister A Raja of the DMK is leading by over 20,000 votes. Deputy chief minister's son Raveendranath Kumar is leading with a wafer-thin majority of 834 votes.
09:55 : BJP candidate takes leads of 15,000 votes over Veerappa Moily
After two rounds of counting, BJP candidate BN Bache Gowda has established a lead of over 15000 votes over former union law minister M Veerappa Molly, the incumbent MP from Chikaballapur.
09:45 : Election results 2019: Sadhvi Pragya Thakur leading in Bhopal, Scindia trailing in Guna
Malegaon terror accused Sadhvi Pragya Singh Thakur is leading by over 8,000 votes in Bhopal. Congress' Digvijaya Singh is in the second position.
In Guna, sitting Congress MP Jyotiraditya Scindia is trailing BJP's Krishna Pal Singh.
Madhya Pradesh chief minister Kamal Nath Singh's son Nakul Nath, who is contesting on a Congress ticket, is leading Chhindwara by over 6,000 votes.
In Indore, a seat previously represented by Speaker Sumitra Mahajan, BJP's Shankar Lalwani is leading by over 18,000.
09:35 : NCP's Supriya Sule trails in Baramati
It's still early but NCP chief Sharad Pawar's daughter is trailing by 1260 votes in Baramati.
09:25 : EC latest data: BJP leads in 178 seats, Congress in 54
BJP is currently leading in 178 seats, while the Congress is ahead in 54 seats, as per the latest data from the Election Commission.
09:15 : Maharashtra: NCP's Parth Pawar leading, Amol Kolhe Trailing
Parth Pawar, the grand-nephew of NCP chief Sharad Pawar, is leading in Maval Lok Sabha seat of Maharashtra, as per initial trends available. In Shirur, NCP nominee Amol Kolhe is leading by 2,890 votes over Shiv Sena's sitting MP Shivaji Adhalrao Patil.
09:00 : NDA crosses 200-seat mark
An hour after counting has begun, NDA is leading in over 200 seats at the moment followed by the UPA in 94, according to NDTV. The BJP is leading the charge in states such as Karnataka, Gujarat, Rajasthan, Uttar Pradesh, Haryana and Delhi, The Congress is putting up a fight in Maharashtra, Chhattisgarh, Bihar, and Punjab.